Grues Treuil is a trusted cranes & components producer with developing sales distribution network in most of the countries worldwide.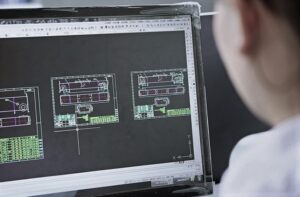 Grues Treuil has been in the market since 2010, in these years we are achieving a good leading position in the global material handling equipment market.
The different make to order solutions and the quality of the products such as manual chain hoists, winches, electric chain hoists, transfer carts, spreader beams, jib cranes, electric wire rope hoists, EOT bridge cranes, Gantry cranes and light duty workstation cranes, suits their applications in all types of industries.
Production
Having produced hoists for the last 13 years, GRUE TREUIL brand emerging as one of the preferred one supplier in the world. We are in hoists and components production as almost all parts and spares are produced in house & planning to have assembly plant in India shortly.
Designed in France, We operates the biggest integrated Chain & Wire Rope hoist manufacturing facility in Europe by number of hoists produced. We follow modern technology and machines that guarantee high quality of produced parts and components as per EU regulations.
In-house design and integrated production allow for swift customer demand. Inspired by its corporate values, we constantly improve production efficiency and find solutions to achieve competitive cost therefore competitive pricing.
All our products carry the CE mark for compliance with the health and safety requirements of the European Union – the Machinery Directive, European directives and regulations.
We provide reliable hoisting and other crane components for most industries. Our in-house design capabilities, internally regulated technology and production, and customer orientated management allow us to offer best options for products to meet market demands and individual needs.
We are constantly updated with the latest market products, solutions and technologies, enabling us to provide solutions to suit all varieties of industrial lifting and handling systems. We are experts in applying the correct engineered equipment for your company's specific application.
Through analysing customer's request, we are trying to do our best to provide the best result.
It has the expertise to address customers' lifting needs by providing solutions adapted to their particular situation.
News
Our organization purpose is to provide a complete range of reliable crane components to the independent crane manufacturers and end users around the world. We aim to be global trustworthy supplier. So we had started our Asian presence as Grues Treuil India Private Limited by year 2022.
Our Best Industry Products
Electric Chain Hoist – Suspended Type
Allows the reaching of the installation point with the hook and the related chain, without having to lift the entire weight of the hoist. It is particularly suited to …